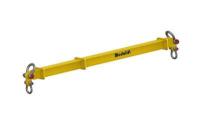 Modulift has manufactured two custom subsea spreader beams for one of the world's leading subsea construction companies, which is currently conducting a large-scale engineering, procurement, installation and construction contract for EnQuest's Kraken development. Kraken is one of the largest subsea heavy-oil field projects under development in the UK sector of the North Sea.
The below-the-hook equipment manufacturer delivered the 303t capacity, 6.8m span spreaders to its customer on site, where the scope of work includes template and manifold installation at three drill centres.
Modulift's spreaders will be used to lift the manifolds into position on stage one of the project, before going into storage for six to 12 months prior to reuse on later stages.
Liam Botting, new business development manager at Modulift, said: "This is a landmark project on which to showcase the engineering behind our new range of spreaders for subsea use. The range incorporates our drop link design to ensure the beam doesn't have any bending force through it—other than due to self-weight—thus reducing the overall size and weight of the beam, creating a more efficient design."