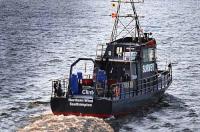 Featuring the state-of-the-art MUNIN AUV and a game-changing inter-vessel broadband communication solution, in addition to the latest survey grade echo sounder technology, sophisticated sonars and underwater positioning systems, Kongsberg Maritime's stand (D600) is a must-see for visitors to Oceanology International 2016.
KONGSBERG's stand centrepiece will be the imposing MUNIN AUV, the newest full-size AUV design from the KONGSBERG Marine Robotics organisation. This particular AUV is the first of a new generation of underwater vehicles to leave the factory and will be delivered to Kongsberg Maritime Ltd's Rental Division when the doors close on this year's Oceanology.
"Integrated solutions for research vessels" is the overriding theme for KONGSBERG, with specific new product highlights on show including the latest generation HiPAP system, cNODE miniS transponders, EM 712 shallow-to-medium depth multibeam echo sounder, EA 440 single beam echo sounder, MGC R3 gyrocompass and a new Seapath Heading, Attitude and Positioning Sensor. GeoSwath Plus USV, wide swath bathymetry for unmanned surface vehicles and the PulSAR towed side scan sonar will also be at Oceanology.
Also making its Oceanology debut is the unique Maritime Broadband Radio (MBR) system, which connects crews and their vessels using a high speed, high capacity digital communication channel with fast-track priority options. The MBR will transmit live from KONGSBERG's Northern Wind demo vessel outside to the stand inside ExCel.
Other equipment demos on Northern Wind include the EM 2040 Dual RX High Resolution Multibeam system; Seapath 330+ Positioning, Heading and Attitude Sensor; and the Portable Sub Bottom Profiler TOPAS PS120. The vessel will also demonstrate the brand-new portable high resolution multibeam, EM 2040 P. Oceanology visitors are urged to visit the KONGSBERG stand early, to book their preferred demo time aboard Northern Wind.
"Oceanology International is an important event for KONGSBERG as we get to see so many of our customers, partners and suppliers all in one place," says Helge Uhlen, VP Subsea Sales Kongsberg Maritime. "We place a lot of emphasis on showing how our technology can benefit the research industry and commercial customers, and are delighted to be able to bring so much new technology to our stand and for demonstrations on our boat outside."
KONGSBERG experts will also contribute to the Oceanology conference program, with presentations on: Technical innovations to domed scanning sonar improving performance in deepwater operations; innovative ways of optimising survey efficiency using the latest hydroacoustic technology and advanced subsea positioning systems; and inter-vessel communication using the MBR solution.