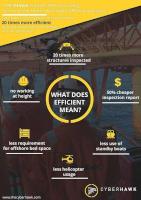 Cyberhawk Innovations, provider of inspection and survey services using unmanned aerial vehicles (UAV), has once again proven its credentials thanks to analysis from a leading international E&P company, which shows UAV inspection is twenty times faster and half the cost of traditional inspection methods.
The company has analysed inspection data from the last two years and concluded Cyberhawk's UAV inspection technique proved 20 times more efficient than traditional inspection methods, such as rope access. This meant that for every day on site, Cyberhawk inspected 20 times more structures than rope access was able to achieve.
This data also highlighted that Cyberhawk was 50% cheaper than rope access inspection, which means that Cyberhawk delivered each inspection report for half the cost of traditional inspection techniques.
Aside from the cost and efficiency savings, use of UAVs also means reduced working at height, reduced requirement for offshore bed space, reduced use of standby boats and less helicopter usage, meaning further indirect efficiencies and savings.
Chris Fleming, CEO at Cyberhawk, says, "More and more operators are changing their inspection philosophy, and looking at safer, more efficient techniques which minimise risks to personnel and reduce costs. By adopting a forward thinking, innovative approach, and using UAV technology for all initial visual and thermal inspections, this means that personnel are only required for contact and advanced inspection if required. The feedback received from the client confirms what we already know – that UAVs offer the most efficient solution when it comes to asset inspection, across a multitude of industrial sectors. Few methods offer the same safety, time and cost advantages."
"Having completed more than 18,000 commercial inspection flights, clients who have worked with us know that they can trust our highly-trained teams to safely capture data and deliver detailed inspection reports in the most efficient way possible. We expect demand for UAV technology to continue growing, particularly in the international oil and gas sector as operators adjust to working in a new, lower oil price environment. Innovative technologies such as drones, which can offer cost savings of up to seven figures and boast huge potential, cannot be ignored," adds Fleming.