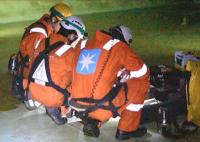 Cyberhawk Innovations has completed its first ever ROAV inspection of a cargo oil tank on an operational FPSO. After significant research and development, this successful project launches this new service to the global oil and gas and shipping industry.
The world-first took place on board the Gryphon FPSO, owned and operated by Maersk Oil in the UK North Sea. Similarly to other FPSO operators, Maersk Oil has requirements to visually inspect cargo tanks for integrity, damage assessment and class certification.
This type of inspection is usually conducted by rope access technicians (RAT), who are suspended on ropes to inspect the tank structure, focusing on areas of high stress such as stiffeners, brackets, bracing, webs and stringers.