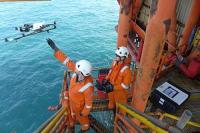 Cyberhawk Innovations, provider of aerial inspection and survey using Unmanned Aerial Systems (UAS) has welcomed Oil & Gas UK's new guidelines on the use of drones in offshore environments.
Cyberhawk played a key role in the drafting of the Unmanned Aircraft Systems Operations Management Standards and Guidelines, which were produced by Oil & Gas UK in conjunction with a working group. As well as Cyberhawk, this group included duty holders who have used UAS, industry and aviation safety experts and a limited number of additional UAS operators.
Cyberhawk were the first company to operate UAS in the North Sea back in early 2012, and has been a significant contributor to the development of the guidelines.
Company founder Malcolm Connolly, the only person in the working group with first-hand experience of operating UAS offshore, says, "The creation of these guidelines marks a step-change for the offshore inspection industry and reflects the fact that the vast majority of oil and gas operators, both offshore as well as onshore, are now using UAS. This has driven the need for an industry specific set of standards. The UK offshore sector already boasts stringent safety and operating standards for other areas of aviation. The introduction of these guidelines marks an important milestone within the sector and a recognition that adoption of UAS technology will continue to grow with a clearer set of guidelines to work to."
"Training and competency play a key role in the new guidelines, as does the reliability of equipment being used and the track record and experience of the UAS operator in question. These guidelines significantly exceed the current minimum requirements set out by the UK CAA for general commercial UAS operations, which is a crucial factor in allowing the continued use of drones to improve the offshore inspection industry. We are particularly pleased that Oil & Gas UK sought to involve the UAS operators themselves, which we believe has made a fundamental impact when compared with other industry specific UAS guidelines which have been produced elsewhere," adds Connolly.
Health, safety and environment director at Oil & Gas UK, Mick Borwell, says, "[UAS] technology is particularly attractive for its use in improving safety. For example, sending unmanned aircraft instead of people into confined spaces to conduct inspections reduces risk, and is also effective and efficient. The guidelines have evolved from lessons learned in recent years and provide information about best practice, procedures and the certification needed to be compliant with UAS regulations. They are an important piece of work addressing the application of a new technology to the offshore environment which will help to ensure operations on the North Sea remain as safe as they can be."