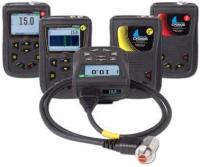 Cygnus Instruments Ltd unveils the latest range of surface instruments.
The new range of thickness gauges is launched following extensive customer engagement, working within industry standards and following careful / exhaustive design reviews.
WHAT IS NEW
Versatile Measuring Modes as Standard with Latest PLUS Models
Cygnus has now incorporated two additional measuring modes in to their latest range of thickness gauges. Single-Echo and Echo-Echo modes, both using twin crystal probes, can assist in obtaining measurements in areas of extreme corrosion or back wall pitting:
• Single-Echo measuring mode - ideal for measuring uncoated surfaces with heavy front face and/or back-wall corrosion and attenuative materials such as cast metals, plastics and composites
• Echo-Echo measuring mode - used for measuring painted metals but with heavy back wall pitting for improved back wall detection.
Additional New Features
The range consists of 5 new models offering a comprehensive array of new features including: A-scan and B-scan displays; hands free units for climbing or rope access; simple sequential data logging or comprehensive data logging with features including Grid Format, offering 16 directional formats; vibrate alert to warn the operator when the measurement is out of tolerance; Bluetooth data transfer capability; and MSI™ (Measurement Stability Indicator).
MSI™ is both clever and simple. Used in Single-Echo and Echo-Echo modes, this trademarked technique samples returning echoes to ensure they are all identical. If the returning echoes are identical the display changes colour or format which indicates the reading is stable and reliable.
Sequential and Comprehensive Data Logging
There are two data logging models in the range, one offering simple sequential measurements to be recorded while the other offers comprehensive data logging where the user can add defined text comments, create templates and add radial measurements around a last logged measurement point. Both models record up to 5,000 measurement points, including A-scans.
Data logging models are supplied with the Cygnus CygLink Software. CygLink is a Windows® application for PC's running Windows 7 and above and is used for uploading data from a data logging gauge. The information can then be analysed, stored, reports can then be created and the data can be exported as a .pdf or .csv file.
Extremely Rugged Enclosure
Designed for use in the most severe operating conditions, the purpose designed enclosure is both extremely tough and strong while small and light weight.
Manufactured using a twin shot injection moulded enclosure which has a soft but durable TPE outer skin, making them both comfortable and extremely durable, while the inner shell is strong, keeping the electronics totally sealed from the outside environments.
This new instrument enclosure has allowed Cygnus to achieve the tough American Military Standard MIL SPEC 810G for environmental protection. These new gauges will survive the harshest operating conditions including drop, vibration, dust and water ingress (IP67) together with low and high temperature cycling.
While the new range from Cygnus offers many new features, the simple to use menu structure means that these new gauges are quick to learn and simple to use.
Cygnus has concentrated on providing the user with key measurement functions for a wide range of thickness gauging applications, in a tough instrument designed and tested for the most severe operating conditions.