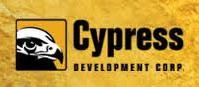 Cypress Development Corp. is pleased to announce that the Phase 1 2014 drill program at its wholly owned Gunman zinc oxide project, Nevada, has started.
The 1140 acre Gunman zinc-silver-gold project is located directly west of Barrick's Bald Mountain gold mine complex on the southern Carlin mineral trend in White Pine County, Nevada.
Cypress Development Corp has contracted to New Frontier Drilling of Fallon, Nevada, to complete approximately 3000 feet of RC drilling in a Phase 1 program on the Gunman project.