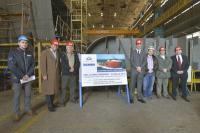 In a keel laying ceremony attended by key client representatives, Damen Shipyards Galaţi marked the start of construction of two Platform Supply Vessels – PSV 5000 – for Canadian maritime services provider Atlantic Towing. The 90-metre vessels are part of a multiple vessel order that includes three identical supply vessels and one designed specifically for inspection, repair and maintenance duties. Atlantic Towing will mobilise all four vessels in North Atlantic oil fields off the Canadian coast.
"These ships are designed to deal with the harsh environment of the Grand Banks," explains Damen Manager North America Jan van Hogerwou. "Not only in terms of the task they will perform, but also concerning seakeeping characteristics. This will yield clear crew comfort and safety benefits."
Atlantic Towing's diverse fleet covers a broad spectrum of maritime services from port and barge support to coastal tug operations. The offshore support branch of the Canadian company's business will increase to 13 vessels on completion of the present contract. "We are all set for delivery of the first vessel in April 2017 – with the further three following close behind," informs Mr Van Hogerwou.