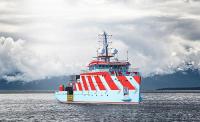 Damen has introduced the Responder 5413 – a new First Line Assistance Vessel. The company has pioneered this versatile, 54-metre vessel partly in response to the increasing number of extreme weather events across the globe, believing it can play a vital role as a first response vessel, capable of assisting a relief or emergency operation in a number of ways.
Designed for unrestricted service, the vessel demonstrates proven seakeeping behaviour. The Damen Responder 5413 is based on the successful Multi Purpose Vessel (MPV) 5413. Four of these units were delivered to the offshore survey, geotechnical and seabed geophysical services company, Fugro, for use as surveying vessels.
The carefully considered layout includes a spacious aft deck, providing multiple container stowage possibilities, a RHIB in a slipway for fast and safe access to and from the vessel, crane capacity, and ample working areas.
The Damen Responder 5413 also has extended spaces for medical treatment, recovery and quarantine, and has an operations room, fitted with global communication equipment.
Depending on the emergency, the Damen Responder can be fitted with containerised and/or modular equipment tailored to the specific needs of the incident. The Responder has fixed positions for three 20 foot (TEU) containers.
This flexible vessel is capable of operating in relatively shallow waters and has a crane capacity of 10 tonnes at 12 metres.
With two vessels available, Damen can guarantee a swift delivery time and competitive pricing.
Damen believes that this vessel could be the ideal solution for governments, local authorities or NGOS in need of a proven, economical vessel, which is suited for numerous environmental and protection tasks using modular, containerised equipment.