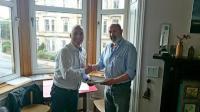 The close working relationship between Delta Marine and the Damen Shipyards Group has produced a new vessel design – called a Damen Renewables Service Vessel 3315. The Scotland-based offshore wind service provider recently awarded Damen a construction contract looking towards a launch in early 2017.
"For the last couple of years we've been working on this new design with Damen Shipyards Hardinxveld," says Delta Marine General Manager Dave McNaughtan. "We came up with concepts – gave them to Damen, who would put those ideas on the drawing board. They gave their expertise – adding the engineering for example – and then came back to us."
"Client feedback is very important to us," says Damen Shipyards Hardinxveld Managing Director Jos van Woerkum. "It has been great to work so closely with Delta Marine to develop this new design."