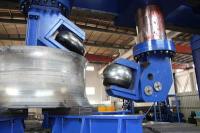 Damen Marine Components will supply a total eight 5,050 millimetre propeller nozzles for four ultra long distance towing and anchor handling vessel newbuildings. They are the largest nozzles that DMC will have manufactured with its spinning machine technique to date. The order was granted by Caterpillar Propulsion of Gothenburg.
Caterpillar is to provide the complete main propulsion units and has commissioned Damen Marine Components, a member of the Damen Shipyards Group, to design, engineer and produce the nozzle and head box sets.
The four sister vessels are under construction in Japan for ALP Maritimes Services, a recently acquired Teekay Offshore Partners subsidiary. The 300+ tonne bollard pull, 24,400 BHP ocean towing and anchor handling vessels will have two propulsion units each in a CPP stern-drive and rudder configuration.