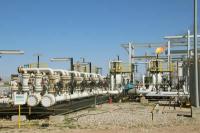 Dana Gas PJSC, and Crescent Petroleum, in their capacity as joint operators, have announced the completion of the rebuild of the LPG loading and dispatch facilities at the Kor Mor LPG Plant in Kurdistan Region of Iraq.
The reconstruction and upgrading of the loading facilities at a cost of $15 million was carried out following an accident last year by a third party tanker operator, and incorporates the latest LPG loading safeguarding and control technology which provides for significant enhancement in the safety and control over the LPG loading process. The Kor Mor LPG Plant now has the capacity to produce up to 900 tonnes/day of LPG which is once again available to the Kurdistan Region and surrounding markets, and should give a further boost to the companies' revenues.
Total Production and Investment Levels
Total cumulative petroleum production by the companies in their major gas operations in the Kurdistan Region has now reached 88 million barrels of oil equivalent from continuous production since October 2008 with a total investment on behalf of the partners in excess of US$1 billion, following agreements signed with the Kurdistan Regional Government for the Kor Mor and Chemchemal blocks in April 2007. This makes it the largest investment and highest cumulative production in the Kurdistan Region's oil and gas sector.