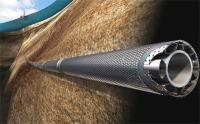 Sand control engineering company Darcy is gearing up for global interest in its downhole Hydraulic Screen at Offshore Europe, following a second successful installation of the new technology in the North Sea.
Hot on the heels of the industry-first on the mature Statfjord field for Statoil, Darcy has reported a second installation with more screens to provide a cost-efficient alternative to gravel packing.
Darcy's system provides 'pump free' sand control delivering increased operational efficiency and simplifying logistics to reduce time and costs. It uses patented hydraulic technology that is easily activated from the surface to provide an alternative to gravel packing which is more time and labour intensive.