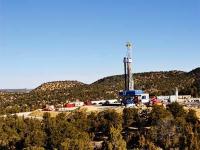 Darren W. Woods has been elected president of Exxon Mobil Corporation and a member of the board of directors, effective Jan. 1, 2016. The election of Woods, who is currently senior vice president of the corporation, was made during a meeting of the ExxonMobil board of directors on Wednesday.
With the addition of Woods, the ExxonMobil board is comprised of 13 directors, 11 of whom are non-employee directors.
Rex W. Tillerson, 63, continues his position of chairman of the board and chief executive officer of the corporation.
Woods, 50, was elected to his current position of senior vice president and a member of the management committee of the corporation June 1, 2014.
A native of Wichita, Kansas, Woods earned a bachelor's degree in electrical engineering from Texas A&M University and a master's degree in business administration from Northwestern University's Kellogg School of Management.