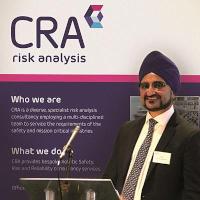 One of the UK's largest independent risk management consultancies is inviting risk safety professionals, academics and peers in the industry to its highly acclaimed annual Risk Forum.
Corporate Risk Associates, which has offices all over the UK will be hosting its seventh annual conference titled "To Automate or not to Automate", which is believed to be the largest event of its type. Anticipated to gather at least 150 attendees from all over the globe, the Risk Forum will be held on the 5th and 6th October at the Stratford Manor Hotel in Stratford Upon Avon.
Chaired by CEO of CRA and its founder Jasbir Sidhu, the two-day event will focus on the increasing prevalence of the use of automation in safety critical industries. The company wants to provoke interest around whether the reduction of human input with the introduction of increasingly complex automated systems will be either friend or foe to the industry.
Speaking about the event, Jasbir says, "The forum has evolved year on year as we react to what people in the industry are telling us they would like to know more about. We are delighted to have provided this platform which creates an opportunity for experts to share best practice, whilst also transferring valuable and insightful knowledge as we all endeavour to be the best we can possibly be."
Jasbir adds, "We have always been greatly impressed by the turnout of each event we have hosted. We now run into our seventh year - and with a fantastic programme for the two days - we anticipate that this will be our most successful risk forum to date both in terms of attendance and knowledge sharing."
CRA, established 16 years ago, specialises in managing safety, reliability and risk across the nuclear, oil and gas, transportation and defence industries and was recently awarded the industry accolade of Risk Management Specialist of the Year by industry body Continuity Insurance and Risk (CIR). CRA is also proud to have been awarded the Institute of Physics Best Practice in Professional Development Award.