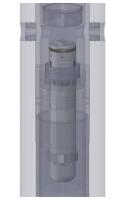 The award-winning DAV MX™ circulating sub from Churchill Drilling Tools, an oilfield service company specialising in drilling innovation, has been successfully used to significantly cut process time and costs for two challenging deepwater cementing operations, without compromising string functionality.
The DAV MX™ is a multi-function, multi-cycling circulating sub (CircSub) which is activated with Churchill's patented MX™ Smart Dart technology. The valve assembly operates on a piston and spring mechanism, which is activated when a dart is pumped down the drillstring. A range of robust darts are pumped at high speed into a simple sub and catcher.
In a deepwater well in the Gulf of Mexico, following the deployment of several failed lost circulation material (LCM) pills at 28,000 feet, a heavy cement 250 bbl slurry of 16.6 ppg was directed into the formation via the DAV MX™ ports. This protected the lower bottom hole assembly (BHA) and delivered the cement straight into the loss zone. The unique 'latch and seal' ability of the DAV MX™ prevented ingress into the lower BHA while the innovative "lock open" feature permitted bypass at low flow rates to restrict dynamic losses.
The controlled cement delivery and the ability to avoid tripping out of hole proved to be a major time and cost-saver for the operator.
Additionally, in a high angle well in the Norwegian Sector, of the North Sea, a cement slurry was delivered through a closed DAV MX™ and onto the bit to cure severe losses at 18,823ft. Two treatments of fracture-sealing cement were pressured into the formation and activator balls were successfully chased through (without opening the DAV MX™) to clean any residual material from the pipe.
At a total depth of 20,748 ft, the DAV MX™ CircSub was then activated in "split flow" mode to allow rotation of the string for superior hole cleaning performance. This further demonstrates the ability to set optimal flow paths in a single sequence with the tool.
The DAV MX™ CircSub offers operators unique flexibility with a range of Smart Darts™ available, each designed to offer a specific performance depending on requirements. The DAV MX™ continues to showcase its utility to major operators and further enhances its position as the bypass tool of choice for major operators worldwide. In deepwater, high pressure/high temperature (HPHT) and high angle operations, the speed and performance of the DAV MX™ has delivered thousands of hours of savings.
Churchill CEO Mike Churchill says, "In these high-risk operations, it is important that the technology is as robust as possible because cement ingress can compromise valve functionality – causing non productive time. The most likely type of damage would be an inability to re-seal after the closing cycle, however in these two cases, the operators were not exposed to valve NPT due to the robustness of the DAV MX™."
"We have an experienced team of engineers, always eager to support our customers, and I am very pleased that the DAV MX™ CircSub continues to demonstrate toughness and utility on challenging drilling operations. Although it really excels in deepwater, high angle, HPHT and ERD wells, we believe it offers real value for money in any bypass application because of its speed, simplicity and reliability," adds Churchill.