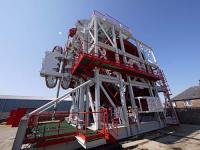 Davidsons Blast Services (DBS), a family run business based in Peterhead, UK, which provides blast cleaning and application of protective coatings to the oil and gas, marine and subsea industries, was awarded the contract early this year by Maritime Developments Limited (MDL), a back deck solutions company.
DBS was contracted by MDL to blast clean and apply a three coat topside paint system to MDL's m-IDP (Integrated Deployment Package), a new flexible pipe deployment and retrieval system developed by MDL for subsea pipe manufacturer, Magma Global.
The m-IDP is a compact, highly developed and multi-function system designed specifically for installation, retrieval and storage of 3-inch 15-ksi m-pipe, the lightweight pipe manufactured by Magma Global, to help reduce the costs and risks associated with light well intervention.
Taking just under three months to complete the coatings on the innovative system, DBS consulted with MDL at every stage of the process from initial brief to final delivery of the m-IDP. DBS' NORSOK accredited team completed the project with precision and attention to detail, ensuring thorough surface preparation and coating integrity had been achieved.
The three coat topside coating system was carried out in accordance with MDL's bespoke paint specification, as well as the stringent coating procedure developed by DBS. All testing was undertaken by a DBS NACE qualified inspector.
Bruce Davidson, managing director for DBS, says, "Our premises in Peterhead were custom built six years ago and in that period we have concentrated our time and efforts on ensuring that DBS' first class facilities, together with our expert dynamic coatings team, are the best fit for today's ever changing innovative structures. Our purpose-built facilities offered MDL an ideal combination of a large blasting hall and a climate controlled paint hall, ensuring optimum conditions for delivering a successful coatings project. It is these factors that lead DBS to continually deliver a first class service and an enviable track record for completing high quality finishes on time and within budget. We have a long-standing relationship with MDL, having carried out a number of projects for the company in the past. We are proud that our customers place repeat business with us and are honoured to have played a small but significant part of a larger project for MDL."