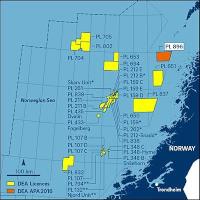 Within the 2016 Awards in Predefined Areas (APA 2016), DEA was awarded two new licences by the Norwegian Ministry of Petroleum and Energy, thereof one as operator.
"We are awarded the licences we applied for, and are very satisfied with the outcome of APA 2016. We focused on getting an operated licence with a strong partnership in an attractive area in the Norwegian Sea, and we succeeded," says DEA Norge's Exploration Manager Svend Erik Pettersson.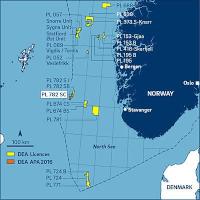 The licence PL 896 is situated in one of DEA's focus areas in the Norwegian Sea, north-east of the Skarv field and its operated development Dvalin. Through years of activity, the company can leverage on the historic exploration knowledge in the licences it receives. In the next years, DEA plans to participate in four to five wells a year, both as partner and as operator.
"These awarded licences support our long-term commitment to further growth on the NCS and prove the authorities' continued confidence in DEA's ambitions and competencies," says Hans-Hermann Andreae, Managing Director of DEA Norge.
The following licences were awarded to DEA Norge:
Norwegian Sea: PL 896, DEA 40% (operator), Statoil 20%, Lundin 20% and Petoro 20%
North Sea: PL 782SC, DEA 20%, ConocoPhillips 40% (operator), Aker BP 20% and Statoil 20%