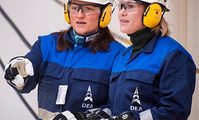 Transocean Norway Operations AS, with the drilling rig Transocean Arctic, has been awarded the contract to drill production wells at the Dvalin field in the Norwegian Sea.
Drilling of the four production wells will start mid-2019, and the operation is planned to last 340 days. The contract value is USD 68 million. The agreement also opens up for using the rig for additional wells.
"Drilling the production wells will be an important step towards production start of the Dvalin field in autumn 2020. DEA is very satisfied with having Transocean on board for the drilling operations," says Hans-Hermann Andreae, Managing Director of DEA Norge.
The Dvalin field is the first operated field development project for DEA Deutsche Erdoel AG in Norway.