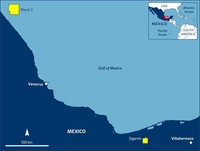 Deutsche Erdoel AG has acquired a 50% licence share and operatorship of the onshore oil field Ogarrio in the Tabasco State of Mexico. The licence share was offered in the latest farm-out auction of the National Hydrocarbons Commission (CNH). Pemex will be licence partner, holding the remaining 50%. Current gross production is about 12,500 barrels of oil equivalent per day, with significant upside potential.
"We are very pleased with the acquisition of the operatorship in Ogarrio, which is a meaningful step for Deutsche Erdoel AG to expand in Mexico," says Thomas Rappuhn, CEO Deutsche Erdoel AG. "Building a long-term business in Mexico, with a portfolio of attractive exploration, development and production assets is part of our strategy."
Dirk Warzecha, COO Deutsche Erdoel AG adds, "Ogarrio offers great potential for us, to leverage our key competences and technical capabilities. We are looking forward to further strengthen the cooperation with our joint venture partner Pemex."
"With Ogarrio, Deutsche Erdoel AG obtains access to production and additional development potential in one project," explains Juan Manuel Delgado, President of Deutsche Erdoel Mexico. "We have concepts in place, to significantly improve the recovery of the field in an economic and sustainable way," Delgado underlines.
The onshore field Ogarrio is located 107 kilometres west of Villahermosa in the state of Tabasco, in the southeast of Mexico. The mature field was discovered in 1957 and since then, 527 wells have been drilled. More than 100 wells are currently active and produce about 12,500 barrels of oil equivalent per day (7,700 barrels of oil and 29 million standard cubic feet of gas per day).
Deutsche Erdoel acquires a 50% share of the Ogarrio licence and the related infrastructure, e.g. pipelines and facilities. The total consideration is 404 million USD. DEA expects to finance the acquisition through a combination of available liquidity and shareholder funding.
Within a short period, Deutsche Erdoel AG managed to add its second licence participation in Mexico. In June, the company was awarded the shallow water exploration licence Block 2 in consortium with Pemex at the bid round 2.1.