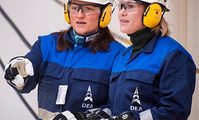 DEA Deutsche Erdoel AG and the Algerian state company SONATRACH have signed a Memorandum of Understanding (MoU). The MoU aims at strengthening the cooperation between the two companies and defines the framework for DEA's potential participation in additional upstream projects in Algeria.
The agreement was signed by SONATRACH's Upstream Vice President Salah Mekmouche and DEA's Chief Operating Officer Dirk Warzecha on 05 December 2017 in Algiers. "This MoU builds on the existing business relationship between DEA and SONATRACH and paves the way for further cooperation of the two companies. It also reflects DEA's long-term commitment to Algeria and represents a good opportunity for us to access additional business opportunities in one of our core countries," says Dirk Warzecha.
"DEA has been active in Algeria for more than 15 years. We welcome the opportunity to cooperate with SONATRACH in identifying oil and gas projects of common interest in Algeria and we hope that this will result in significant value creation potential for both parties," adds Sameh Sabry, who is the new General Manager for DEA in Algeria since 01 September 2017.
Algeria is the leading natural gas producer in Africa and an important natural gas supplier to Europe. DEA participates in the Reggane Nord project in the Algerian Sahara with a 19.5% working interest. Reggane Nord comprises of six gas fields under development, which are planned to be brought on stream in the coming few months.