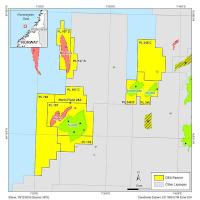 DEA has strengthened its position in Norway by acquiring participating interest in seven licences in the Njord area in the Norwegian Sea, including 20% increased interest in the Njord field, from Engie E&P Norge AS.
"All together the acquisition adds approximately 45 million barrels o.e (mmboe) in reserves and contingent resources to DEA. This acquisition has attractive economics and establishes DEA as one of the major players in the area and confirms our commitment to growth in Norway," says, Hans-Hermann Andreae, Managing Director of DEA Norge AS.
The agreement with Engie E&P Norge AS includes: 20% in the Njord field (PL107 and PL132), 10% in the Hyme field (PL348), 10% in the Snilehorn discovery (PL348B), 15% in the Noatun discovery (PL107B and PL107D) and 20% in the North Flank discovery (PL107C).
The Njord Area is one of the key areas for DEA in Norway, and increasing the presence with assets with long production life has been important for the company. "These new additions to our portfolio further builds on a strong and diversified asset base in Norway. It is another milestone in our strategy which is structured in organic growth as well as M&A activities," says Thomas Rappuhn, CEO of DEA Group.
The transaction between DEA Norge AS and Engie E&P Norge AS will be effective from 1 January 2017, and will foster DEA's growth aspiration in Norway in terms of long-life production in a strategically important hub. The agreement is subject to governmental approval.
After the transaction, DEA's shares in the licences will be:
PL 107 AND PL 132 (Njord): 50 %
PL 348 (Hyme): 27,5%
PL 348B (Snilehorn): 27,5%
PL 107B and PL 107D (Noatun): 45% and 20%
PL 107C (North Flank): 50%