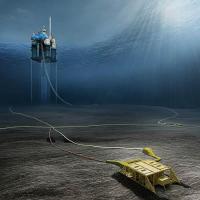 The Plan for Development and Operation (PDO) for the Dvalin field (previously named Zidane) has been handed over to the Ministry of Petroleum and Energy in Norway by operator DEA. Dvalin will be the company's first operated field development project in Norway.
The Dvalin licence plans to produce a total volume of approximately 18.2 billion cubic metres of natural gas from two reservoirs. The development cost is estimated to 1.1 billion Euros (NOK 10 billion), with planned production start in 2020. "It's is a major step for DEA to hand-in the PDO and to transfer this project into the next phase," says Thomas Rappuhn, CEO of DEA Deutsche Erdoel AG. "The Dvalin development will contribute significantly to DEA's ambition to further grow our business in Norway," Thomas Rappuhn adds.
Dvalin will be developed with a four wells subsea template, which is connected to the Heidrun platform. At Heidrun, the gas will be partly processed in a new module, before the gas is transported in a new export pipeline to Polarled, going to the Nyhamna onshore gas terminal. At Nyhamna, the gas will be processed and transported to the European market.
"Dvalin is DEA's first development as field operator in Norway, and we are looking forward to the upcoming tasks," says Hans-Hermann Andreae, Managing Director of DEA Norge.
"Together with our partners, we have come up with a development solution with sustainable long term economics in an environment of low market prices," Andreae underlines. Creative work in the project team and market developments in the supplier industry have made it possible for the partnership to make the project economical sound. "Over the last few years we have managed to reduce cost by more than 20%. As a consequence, DEA has got the opportunity to open a new area in the Norwegian Sea for gas production and export," says Andreae.
The Dvalin field is located in PL435, blocks 6507/7/9 and 6507/8 in the Norwegian Sea, approximately 15 kilometres north west of Heidrun and 290 kilometres from Nyhamna in Mid-Norway.
DEA Norge is operator of licence PL435 with a 40% share. Partners are Edison (20%), Maersk (20%) and OMV (20%)1. The development is subject to the approval from the Norwegian authorities.
In the area of licence PL435 it is an established tradition to give the fields names from Norse mythology. The nearby field Heidrun is named after the goat that grazes on the roof of Vallhalla, a majestic, enormous hall located in Åsgard, ruled over by the god Odin. Yggdrasil is an immense ash tree that connects the nine worlds in Norse mythology. Dvalin is one of four stags that grazes off the leaves of Yggdrasil.