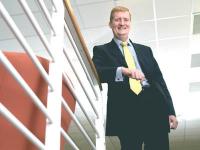 The Board of Directors at Decom North Sea (DNS), the offshore oil and gas decommissioning forum, are pleased to announce the appointment of a new chief executive to lead the organisation as it further strengthens its position as the representative body for the decommissioning industry.
Nigel Jenkins will take up the post on July 1 and replaces Brian Nixon, who is retiring after playing an instrumental role in establishing DNS as the voice of the decommissioning sector.
Mr Jenkins previous roles include board leadership positions with AMEC and AECOM and most recently as board director with KDC Contractors, which has a long and successful track record of working on decommissioning projects on and offshore. He also served as a director with DNS from 2011 to 2013.