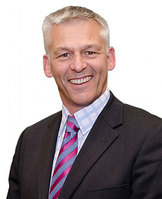 Decom North Sea, the membership organisation for the oil and gas decommissioning sector, has appointed Dr Tom Leeson as interim Chief Executive Officer.
Commencing his role with immediate effect, Tom brings almost 30 years' industry experience to the role, 15 of which have included activity within the decommissioning sector. Since 2014, Tom has focused solely upon decommissioning, most recently as Well Abandonment Global Business Manager for Halliburton, and as Principal Consultant: Well Abandonment for Aberdeen-based Reverse Engineering Services.
A former Vice Chair of Decom North Sea's Board, Leeson's relationship with the organisation dates back to 2011, when he initially took on the role of Board Director. In addition to holding an excellent understanding of the operational aspects of Decom North Sea, he is a well-known figure to the 350-plus member organisations.
Commenting on his new role, Leeson says, "I am delighted to have been appointed interim CEO of Decom North Sea; the challenges facing the sector are very well known to me and I will be working directly with our strategic partners as we continue to play a vital part in solution development, cross-sector learning and in building supply chain capability."
"I look forward to meeting our members at next week's Offshore Decommissioning Conference and during the coming months, as we lead the development of efficient and effective decommissioning within the context of Maximising Economic Recovery in the North Sea," Leeson continues.
Nigel Lees, Chairman of Decom North Sea's board of directors adds, "Tom provides a depth of industry-wide – and sector-specific – knowledge and experience, which will ensure Decom North Sea continues to connect supply chain capability with opportunity. The Decom North Sea board looks forward to working closely with Tom to achieve our fundamental objective; maximising business potential for our members, whilst ensuring a safe, innovative and cost-effective decommissioning sector via the enhancement of knowledge transfer and facilitation of collaborative activities."