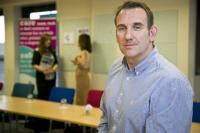 With the pace of decommissioning activity accelerating, Mark Walker, Client Partner at Optimus Seventh Generation, a behavioural change consultancy, discusses the vital need for leadership to help ensure projects are as safe as possible.
Key findings from this year's Oil and Gas UK activity survey state that the annual average expected spend on decommissioning on the UK Continental Shelf (UKCS) over the second half of the decade has increased to £1.8billion from £1.5billion. With the low oil price, rising costs and ageing infrastructure, the huge task of removing redundant installations from the North Sea is gathering momentum.
With over 600 offshore oil and gas installations in the North Sea, of various sizes, and more than 10,000km of pipelines, wells and accumulations of drill cuttings, the biggest concern is how the infrastructure can be removed in a safe and cost effective manner.