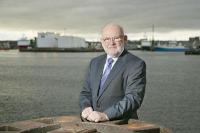 Decom North Sea (DNS), the offshore oil & gas decommissioning forum, held its annual general meeting last night in St Andrews, with four new directors elected and four directors re-elected from across all sectors of the decommissioning industry.
The meeting heard that the supply chain body now has 225 fee paying members. Attendees were also given an overview of Decom North Sea activity over the past year and an update on progress against the various strategic objectives.
Brian Nixon, Decom North Sea's chief executive, said: "Having a board of highly-experienced directors has been invaluable to the progression of Decom North Sea into the representative body for the North Sea decommissioning sector. We welcome the election of further industry professionals who bring a wealth of knowledge to support DNS as it continues to develop over the coming 12 months.''
The directors re-elected on to the board were Nigel Lees, Wood Group PSN; Dick Lagerweij, Boskalis Offshore; Stuart Wordsworth, SPD Group and Mark Stanley, Peterson (United Kingdom) Ltd. The new directors elected were Ian Whitehead, Petrofac; Pamela Ogilvie, Quickflange UK Ltd; Andrew Sneddon, URS Corporation and Dr Stewart Davies, Augean Plc.
Decom North Sea and Oil & Gas UK are jointly hosting a major decommissioning industry conference today and tomorrow (October 2 and 3) at The Fairmont, St Andrews.