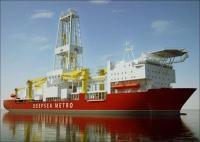 Deep Sea Metro Ltd. has secured a contract with Petrobras for its second drillship; the Deepsea Metro II. The contract with Petrobras has a firm duration of 3 years and the value, including part of potential bonus and mobilization fee, is approximately USD 531 million.
Deepsea Metro II will be operating in ultra deep waters offshore Brazil from the end of Q4 2011.
Deepsea Metro II is the second of two ultra deepwater drillships under construction by Deep Sea Metro Ltd., and is scheduled for delivery from Hyundai Heavy Industries (HHI) ultimo November 2011. The Deepsea Metro I has recently secured a deepwater drilling contract with the BG Group and is expected to be delivered from HHI on 31 May 2011.
The Metrostar Group retains 60 percent ownership in Deepsea Metro I & II and Odfjell Drilling Ltd has a 40 percent ownership, which is in the process of being transferred from Odfjell Drilling Ltd to Odfjell Offshore Ltd.
Odfjell Drilling Ltd is responsible for the construction follow-up, management and operation of the vessels.
Chairman of the Board in Odfjell Offshore Ltd., Mr. Simen Lieungh says," To enter the deepwater market offshore Brazil has always been part of our long term strategy with Deep Sea Metro Ltd., and with the award of this contract to Deepsea Metro II, we have achieved it. We have now secured contracts for all our deepwater newbuild units and we look forward to the operations ahead"