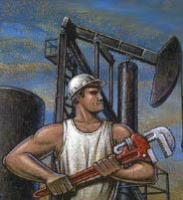 Deep Well Oil & Gas, Inc. has served notice of election to participate in the SAGD Demonstration Project planned by Andora Energy Corporation, in Section 30-91-12W5 held by Andora (50%), MP West Canada (25%) and Deep Well (25%).
The election is pursuant to a Demonstration Project Joint Operating Agreement dated July 30, 2013, reached between Andora and Deep Well's wholly-owned subsidiaries, Northern Alberta Oil Ltd. and Deep Well Oil & Gas (Alberta) Ltd.
The effect of this election is that Deep Well will participate in Andora's demonstration project to produce oil from Section 30 of the jointly-held lands, which geological studies show has one of the thickest pay zones of heavy oil in the Sawn Lake reservoir with the most easily-accessible potential for production to yield sustained commercially-viable quantities of heavy oil for a few decades.