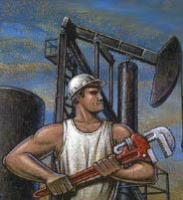 Deep Well Oil & Gas, Inc. is pleased to announce the following operations update on its joint Steam Assisted Gravity Drainage project located in Sawn Lake, Alberta.
The SAGD well pair was drilled to a vertical depth of approximately 650 meters with a horizontal length of 780 meters each. Steam injection began in May 2014 and circulated for up to four months with production commencing in mid-September 2014.
The start of our bitumen sales averaged 221 barrels per day, half way through the 3rd thirty day period since the start-up of production. The production has since increased significantly. For the month of March 2015, bitumen sales averaged 319 barrels per day, with a Steam Oil Ratio ('SOR') of 5.4.
In the last 16 days of March, the production averaged 350 barrels per day with an SOR of 4.9. A single daily production peak was achieved in March 2015 at 421 barrels per day. All of these production numbers are on a 100% basis with Deep Well owning a 25% working interest through its subsidiaries. Deep Well also beneficially owns 2.24% of Andora Energy Corporation.