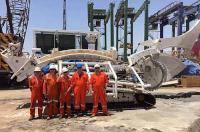 DeepOcean 1 UK Ltd., a subsidiary of DeepOcean Group Holding BV, has announced that the company has been awarded a contract for the provision of post-lay trenching of a 42-kilometre power cable from the shore to offshore United Arabic Emirates. Works will be performed by DeepOcean's recently upgraded T1 mechanical trencher.
The contract award recognises DeepOcean's extensive experience of delivering trenching operations world-wide and the company's flexibility to modify its trenching fleet to meet project specific challenges.
The T1 is a 25 tonne self-loading wheel cutter capable of trenching small diameter cables to 20-inch pipelines in water depths from 0-500 metres and in soil conditions from loose sands to 40MPa cemented calcarenite. DeepOcean has recently modified T1's power and cooling system to deliver a cost efficient onshore, shallow and deep water trenching solution that boast an impressive track record having trenched over 1,650km of subsea product to date.
Modifications to T1 were performed in the UK and included trialling the trencher in various soil conditions up to 40MPa with trench depth of 1.2 meters achieved. The T1 was subsequently transported to Abu Dhabi were further successful onshore trials were conducted to test the T1's cooling system in the regions extreme temperatures. The post-lay trenching works have now commenced offshore Abu Dhabi.
Tony Stokes, Managing Director of Asia Pacific & Middle East, states, "DeepOcean setup its Middle East branch in October 2015. We are extremely pleased to receive this award and it is a testament to the confidence our clients have in DeepOcean's ability to provide innovative trenching solutions. This project highlights that novel solutions can be found when working closely with our clients that allow DeepOcean to deliver projects in the most cost effective way in a challenging global market. We look forward to a successful campaign and building our presence in the Middle East on the back of our front-end technology and ability to deliver."