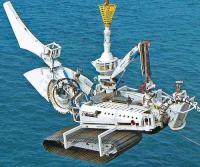 DeepOcean 1 UK Ltd., a subsidiary of DeepOcean Group Holding BV, has announced that the company has been awarded a contract for the provision of post-lay trenching and backfilling works on 56 km of power cable offshore UAE.
This contract award has come on the back of two completed projects offshore UAE in 2016 and early 2017. The post-lay trenching and backfilling works are planned to commence late 2017 with DeepOcean's T1 mobilised from the UK after the completion of an extensive upgrade.
The 25 Te self-loading trencher T1 has successfully completed over 1,650 km of subsea trenches for cables and pipelines up to 20 inches. After the upgrade, T1 is designed to cut a subsea trench with a maximum depth of 1.4 metres in various soil conditions up to 40 MPa. The trencher is also capable of carrying out mechanical backfill operations to assist in cable protection.
Tony Stokes, Managing Director of Asia Pacific & Middle East, states, "We are extremely pleased to receive this award as it is a testament to the confidence our clients have in DeepOcean's ability to provide burial solutions in the most difficult soil conditions. We are looking forward to a successful campaign and the continuation of building our presence in the Middle East through supporting our clients with market leading assets."