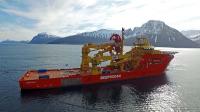 DeepOcean AS, a subsidiary of DeepOcean Group Holding BV (DeepOcean), has announced that the company has been awarded a contract for provision of Engineering, Procurement, Removal and Disposal (EPRD) of Varg Subsea facilities by Repsol Norge AS.
The scope of work cover subsea pre-decom survey, recovery of FPSO mooring lines, anchor piles, risers, midwater-arch buoy and subsea structures as well as onshore disposal and recycling of the recovered items.
"In the current market, with tough competition for every job I am pleased that DeepOcean has been selected by Repsol for this project. DeepOcean already has an in-depth knowledge of Repsol's assets in the North Sea, through our long term relationship on maintaining the integrity of their assets. Coupled with our significant experience for similar operations it is great to learn that our project team has been able to take advantage of this and develop a cost efficient solution for Repsol. Further, the new construction vessel Edda Freya, arriving in our fleet in 2Q16 has been specially designed for multiple types of subsea operations, and hence prove very cost efficient for subject scope", says Rolf Ivar Sørdal, DeepOcean's Commercial Director for Subsea Services in the Greater North Sea.