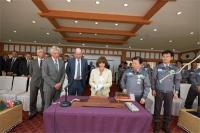 The naming ceremony of Deepsea Aberdeen was celebrated in 25 June. Mrs Karen Jones representing BP, the lady sponsor of the new ultra deepwater drilling unit bestowed good luck for the rig and its crew.
"I am grateful for, and value, the attitudes and efforts I have experienced in meetings with DSME and the key contractors at the yard. They have done an enormous effort", states Simen Lieungh, CEO of Odfjell Drilling.
The sea trials will roll out from July- August. Odfjell Drilling is expected to take delivery of Deepsea Aberdeen in October/ November. From Okpo in South Korea Deepsea Aberdeen will sail to Singapore and Mauritius, Cape Town and Las Palmas before the rig's first long trip finally ends West of Shetland to start up drilling operations for BP in 1st quarter 2015.