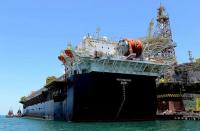 Royal Dutch Shell plc, through its subsidiary BG E&P Brasil Ltda. (Shell) and consortium partners in Lula South, have announced that deepwater production has started at the FPSO P-66, which is located in the Brazilian pre-salt of the Santos Basin.
Positioned in 2,150-metre water depth, the P-66 can process up to 150,000-barrels of oil and 6-million cubic meters of natural gas per day. The unit is the first in a series of standardised vessels operated by Petrobras to begin production within the BM-S-11 block consortium and the seventh to produce within the consortium overall.
"Achieving production at Lula South is an important accomplishment in the Santos Basin, and we recognise Petrobras' delivery of this critical milestone," says Andy Brown, Upstream Director for Shell. "The consortium has additional FPSOs in this series planned over the next three-years. Across Shell's deep water business in Brazil, we're investing in projects with competitive break-even prices, and our presence as Brazil's second largest oil producer continues to grow."
Shell has a 25% stake in the consortium developing the Lula field in the BM-S-11 block. Petrobras operates the field with a 65% interest, and Galp, through its subsidiary Petrogal Brasil, holds the remaining 10% interest. The P-66 is the tenth deepwater FPSO in operation across Shell's working interest in the pre-salt areas of Santos Basin. Shell operates two additional FPSOs offshore Brazil.
Shell's deep water business also extends to the US Gulf of Mexico, Nigeria, and Malaysia and, globally, produces approximately 725,000 barrels of oil equivalent per day (boe/d); production is expected to reach approximately 900,000 boe/d by the early 2020s, from already discovered, established areas.