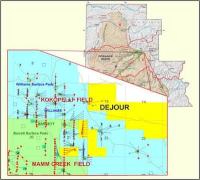 Dejour Energy Inc. reports on current development progress at the Kokopelli Project.
Since the commencement of this phase of Kokopelli in September 2014, Dejour with its operating partner have completed the drilling, casing, fracking and testing of the produced water disposal (PWD) well on Pad 21A, vital to the economics of the ongoing Kokopelli production programs. This well is now ready to equip as a disposal well for produced water for all wells expected to be drilled on the Jolley Mesa portion of this south lease at Kokopelli, once associated facilities are in place.
Subsequently, on Pad 21B, less than 500 yards away, the working interest partners successfully drilled and cased 7 Williams Fork wells (Federal 14-15-1-21 through Federal 14-15-8-21) and a single vertical 13600' Mancos test well (Federal 14-15-7-21) as contemplated in the original 2014 drill program by the Operator.