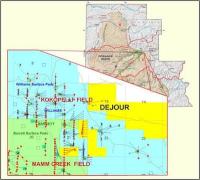 Dejour Energy Inc. announced an operational update for its flagship Kokopelli project.
As previously reported, on Kokopelli Pad 21B, Dejour and its operating partner successfully drilled, cased and completed a single vertical 13600' Mancos discovery well (Federal 14-15-7-21) and seven Williams Fork (WF) wells (Federal 14-15-1-21 through Federal 14-15-8-21) as contemplated in the original 2014 drill program. The deep Mancos discovery well completion incorporated 14 stages to best assess the multi-zonal potential of the leasehold.
Immediately upon drilling out the bridge plugs, the Mancos well flowed at over 8 mmcf/d (approximately 1300 BOE/d) with over 4000 psi casing pressure. A historical review of all the vertical Mancos wells in the Basin indicates that the Federal 14-15-7-21 is among the better vertical wells drilled to date. The well has been temporarily choked back to best analyze and align gas composition with current delivery systems. The seven WF wells are now collectively flowing an additional 6mmcf+/d plus liquids with at least 60% of completion fluids yet to be recovered.