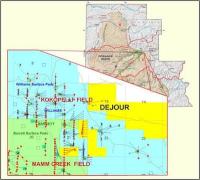 Dejour Energy Inc. updates current development progress underway at the Kokopelli project.
The 'conductor' rig has completed the setting of 20' casing for eight new production wells and one water disposal well on Pads 21A and 21B at Kokopelli.
The Frontier-28 rig is currently moving to Kokopelli from Wyoming and is expected to rig up for the drilling of the water disposal well early next week on pad 21A. The estimated time to drill and case the 8900' well to the Cozzette near the base of the Williams Fork is 10 days.
Following the casing of the water disposal well the rig will move to Pad 21B where it will begin to drill the first of eight production wells: seven Williams Fork and one Mancos well. The project is currently on schedule.