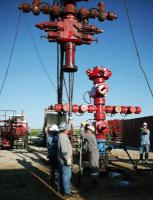 A north-east technology company is celebrating a key milestone in the commercialisation of its product, with potential to transform the global oil and gas industry.
Delphian Ballistics has deployed 150 of its TriStim perforation guns across the US and Canada in January alone.
The company has lined up a healthy pipeline of work for 2016, with a large order on route to New Zealand which will be deployed next month.
The firm, which designed the system to be used in both conventional and unconventional wells, is firmly on track to meet its projected revenue in 2017 after completing its break-through onshore fracking project in Oklahoma last year.