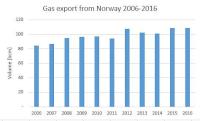 A new record for gas exports from Norway was set in 2016, when 108.56 billion standard cubic metres (scm) were delivered within Gassco's operatorship to Germany, Belgium, France and the UK.
By comparison, 108.44 billion scm of gas were exported from the Norwegian continental shelf in 2015 to European buyers via these four countries.
"Deliveries show that European demand for Norwegian gas is higher than ever," says Frode Leversund, CEO of Gassco. "It's also gratifying that we've been able to set a new record in a year characterised by extensive maintenance work."
One of Gassco's objectives as operator for Norway's integrated gas transport system is to run this network with the highest possible regularity. This ensures that customers in Europe and the UK have secure and reliable gas deliveries.
Average regularity for the transport system during 2016 was 99.71%, compared with 99.38% the year before.
Increase for NGL Too
Deliveries of natural gas liquids (NGL) and condensate from the Gassco-operated process plants at Kårstø and Kollsnes (via Vestprosess) in western Norway also rose in 2016.
They reached a total of 10 million tonnes, compared with 9.6 million tonnes the year before.