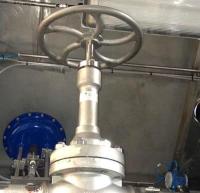 UK-based manufacturer of cryogenic valves Bestobell Marine has seen a major increase in demand for its cryogenic valves from the marine sector in the US.
This is largely due to the new Emissions Control Areas (ECA) which is increasing the number of dual-fuel vessels being commissioned which require cryogenic valves.
One of the first major contracts that Bestobell secured in the marine sector in the US was for the Harvey Gulf International Marine 'Going Green' project. Five vessels were designed and built which were the first US flagged vessels capable of operating exclusively on natural gas. The first of these, Harvey Energy, has recently been launched.
Bestobell Marine supplied globe and check valves for the ship's LNGPac fuel system for the five Harvey Gulf vessels.
Duncan Gaskin, Sales Director at Bestobell, said: "It is very exciting to have supplied the first US flag vessels that will run primarily on LNG. Ship builders and owners are increasingly opting for fuel efficient LNG and this kind of vessel is a blueprint for the future of marine engineering."