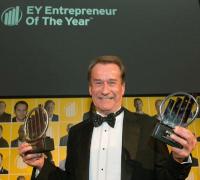 Mike Loggie, Chief Executive of Saltire Energy has been announced as the overall winner of the EY Scotland Entrepreneur Of The Year Awards 2015.
Winners were announced at a prestigious black tie ceremony at Gleneagles Hotel on Thursday, 25 June. Mike was chosen from among 25 Scottish business leaders to claim the top accolade, and will go onto represent Scotland at the EY UK Entrepreneur Of The Year final in October 2015.
Mike established Saltire Energy in 1986 and has since grown the company into a group of three highly successful subsidiaries. Over the past three years, the company's turnover figures have increased by 68%, with its on-the-ground presence in Australia, Africa, Europe, the Middle East and the Far East growing as a result of client demand.
David Mitchell, EY Director of Entrepreneur Of The Year Scotland, said: "Saltire Energy is a true Scottish success story, delivering exceptional profit and rapid international growth in a very competitive and volatile market, with further scope for growth still. Mike's stewardship together with his focus on, and commitment to, his staff and clients have seen the company go from strength to strength."