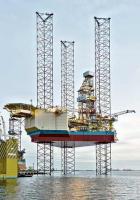 Det norske oljeselskap (Det norske) has received consent from the Petroleum Safety Authority (PSA) Norway to drill an exploration well in block 25/10.
Det norske is the operator for production licence 626 in the North Sea. The well will be drilled in a prospect named Rovarkula, with the designation 25/10-15 S.
Drilling will begin in July and estimated to last 25 days, depending on whether a discovery is made.
Drilling will be performed by Maersk Interceptor, which is a jack-up drilling facility, delivered by the Keppel Shipyard in Singapore in 2014. The facility is owned by Maersk AS and operated by Maersk Drilling Norge AS.
Maersk Interceptor was issued with an Acknowledgement of Compliance (AoC) by the PSA in December 2014.