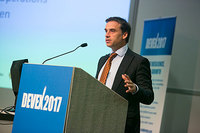 Following the success and popularity of the conference over the last two years, DEVEX is excited to announce that it will be offering 300 free delegate places in 2018.
The not-for-profit conference is the only technical conference in Aberdeen of its size which is focused on reservoir discovery, evaluation, development and recovery in the UK. Jointly organised by the Petroleum Exploration Society of Great Britain (PESGB), Society of Petroleum Engineers (SPE) and Aberdeen Formation Evaluation Society (AFES), the 2018 committee, comprising representatives from these organisations and the energy industry, have been working hard to compile a high quality technical programme.
Heading up this committee is Brenda Wyllie, Vice-Chair for the SPE Aberdeen Section and Northern North Sea and West of Shetland Manager at the Oil & Gas Authority (OGA). Having been involved with DEVEX for the past 10 years, Brenda is delighted to see the industry continuing to support the conference.
Wyllie says, "Back in 2016, we took the decision to offer the DEVEX Conference free of charge to a select number of delegates - 300 to be precise. The Industry climate at that time led us to commit to providing a high quality, free Conference to ensure that training needs were met by both current employees and those that had recently been made redundant. The Industry responded and provided financial assistance to allow the 2016 conference to run free of charge for the 1st time. From the attendance levels and feedback we received, we knew how much our delegates valued this unique conference and we knew that we needed to do something to continue this support. The 'free for the first 300' plan was extremely well received by delegates, with the free places being snapped up in just one hour! Offering the free places would not have been possible without the event partners who got behind DEVEX, and the same is true today. Our event partners, Nexen, OGA, Premier Oil, Apache, BP, Centrica, CNR International, ConocoPhillips, Fairfield Energy, Shell, TAQA, Total E&P UK, Chevron, and Suncor Energy, allows us to continue to provide the opportunity for the industry to hear top quality speakers while sharing skills and ideas – something which is vital to the industry as a whole."
The 2018 DEVEX Conference will focus on "Working Together from Pore Space to Pipeline" and will feature high quality technical sessions, expert masterclasses, interactive discussions, core on display, and networking opportunities for all areas and experience levels of the energy industry. The conference takes place on the 8th and 9th of May 2018 at the Aberdeen Exhibition and Conference Centre. Bookings will open in February 2018 and free places are first come, first served.