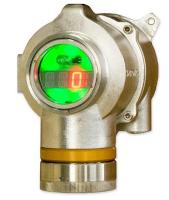 Tyco Gas & Flame Detection has announced that the DG-TT7-S and DM-TT6-S gas detectors with Metal Oxide Semiconductor (MOS) sensor are now SIL 2 approved.
The devices underwent stringent functional safety assessments by a third party agency in order to receive SIL 2 approval. A SIL 2 level Functional Safety Approval is obtained when using the detector output current in the safety loop of the customer's system.
The DG-TT7-S and DM-TT6-S are solid-state metal oxide semiconductor (MOS) gas detectors used mainly for the detection of hydrogen sulphide in arid locations having air present. The units employ a robust sensing element that requires recalibration just once every three months for optimum performance, but in some instances calibration can be extended to six month intervals. In addition the device does not need a high gas concentration dose to react with the active sensing material.