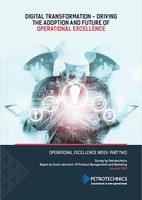 The second instalment of Petrotechnics' Operational Excellence Index (OEI) has revealed companies in hazardous industries are embracing digital transformation as a means of achieving Operational Excellence (OE), but the rapid pace of innovation and fear of change could pose barriers to widespread adoption.
Petrotechnics surveyed oil, gas and petrochemical professionals to gauge industry attitudes around OE and digitalisation. Over 73% of companies surveyed noted that digitalisation – the advancement of Industry 4.0 technologies like the Industrial Internet of Things (IIoT) smart sensors, digital twins and threads, machine learning, artificial intelligence and cloud solutions – is accelerating the ability to deliver sustainable OE.
Respondents praised the benefits that digitalisation is bringing to operations, with early adopters ramping up their use of cutting-edge technologies. Enhanced KPIs and metrics (51%) and improved prioritisation and planning (49%) are the two areas where digital transformation is currently creating the biggest impact. Deriving insight from data is also a key focus, with 65% of respondents either currently deploying or planning to deploy predictive analytics.
However, the rate of digitalisation has some respondents worried about whether the industry can keep pace, as 51% recognise real challenges to embracing digitalisation including, steep learning curves (19%), too much data (18%), and disengaged workforces (14%).
Scott Lehmann, VP Product Management and Marketing at Petrotechnics, says, "These results don't come as a surprise. Newer applications and technologies have the potential to disrupt long-standing models of operation. We know this can make people hesitant, worried and resistant to change. But in reality, digitalisation is meant to enhance, not replace, the human element of decision-making."
Over 83% of organisations agree that digitalisation enables a single, shared view of operational reality – leading to greater levels of transparency, efficiency, and performance. And 81% highlight real-time visibility of asset risk as a significant benefit.
Lehmann continues, "Digitalisation is delivering on its promise to bring OE to life. According to respondents, technology is having the greatest impact on areas that sit at the heart of a strong OE framework. For example, we know companies are benefiting from digitalisation to support strategic management and the deployment of operational resources."
"The question of OE adoption isn't if, but when. For each organisation, the answer lies in its ability to embrace technology as an enabler of a collaborative operational culture. But for digitalisation to become embedded in organisations, senior leaders must lead from the front and effectively communicate the benefits across the business. More importantly, they must be proactive in demonstrating how digitalisation is part of a wider strategy to ultimately enhance the way individuals and teams operate – dispelling people's fear of change. The only choice left for companies in hazardous industries is whether they're willing to pay the price to wait any longer."