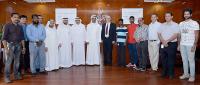 The Dubai Maritime City Authority (DMCA) recently held a workshop on the use of the Smart Survey Simulator, an advanced training solution for vessel survey inspections, in cooperation with Norway-based international classification society DNV GL.
Amer Ali, Executive Director of DMCA, says, "DNV GL is an important partner in our efforts to create new maritime experiences using the latest technologies such as VR, drones, and autonomous systems. The Smart Survey Simulator complements our sharp focus on innovation in training and inspection and we are highly satisfied with the knowledge and skills imparted by DNV GL's expert to ensure optimal use of the simulator by our operation and inspection teams."
The two-day workshop was organised by the DMCA Innovation Team, with participants comprising members of DMCA's Maritime Operation and Inspection Teams who were informed of the Smart Survey Simulator's ability to provide realistic and cost-efficient training using virtual reality (VR) technology and detailed models of actual ships. Using extensive survey knowledge provided by industry leaders, the sophisticated training system can place thousands of actual deficiencies on each virtual vessel and share the data through a virtual platform.
Mahmoud Oweida, Director of Information Technology, DMCA, adds, "Aside from acting as a powerful training and assessment tool for inspectors and surveyors, the Smart Survey Simulator can also facilitate virtual onboard tours which can be used by first-time users of a vessel for safety-related training and familiarisation. The simulator environment will eventually be adapted to yachts, leisure crafts, and other maritime environments in Dubai."
The deployment of the Smart Survey Simulator falls under the DMCA & DNV GL Innovation Program signed by DMCA and DNV GL in late 2016 to collaboratively pursue several maritime innovation initiatives. The program aims to expedite the development of all aspects of Dubai's maritime sector using technological innovations and consequently help boost the UAE's economic diversification.