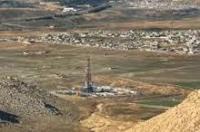 DNO ASA commences drilling of the Jawhara-3 well, the first of several exploration and appraisal wells planned in the Sfax Offshore Exploration Permit in the Republic of Tunisia. It will be drilled four kilometers north of the Jawhara-1 discovery well, which flowed 1,500 barrels of oil per day, and will test the Douleb and Bireno reservoirs in the up dip Jawhara structure. A second exploration well will follow in the first half of 2015.
In the Kurdistan region of Iraq, DNO is logging the 834 meter horizontal section of the recently drilled Tawke-28 well and plans to place the well on production by early November. The next horizontal well in the field development program, Tawke-27, will spud shortly thereafter.
Elsewhere in Kurdistan, the Benenan-4 well has indicated higher volumes of oil in place in the Erbil license with movable Najmeh oil tested deeper than in previously drilled Benenan field wells. Further testing and evaluation are underway.