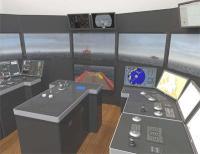 The latest version of K-Sim DP, a Dynamic Positioning (DP) Manoeuvring simulator from Kongsberg Maritime, has received the prestigious Class A Certification from Det Norske Veritas (DNV). This makes it compliant with the highest DNV standard for DP simulators according to Standard of Certification of Maritime Simulators number 2.14 (January 2011).
K-Sim DP Manoeuvring is the most advanced in a long line of Dynamic Positioning simulators developed by Kongsberg Maritime. It is built on the same advanced technology platform as the market leading K-Sim Offshore (previously known as the KONGSBERG Offshore Vessel Simulator) and has the power to provide realistic and relevant DP training in various simulated conditions and environments.
"The DNV Class A approved K-Sim DP is developed to conduct more operational and scenario based courses, fulfilling the industry's training requirements and has the possibility to replace a significant amount of the on board training required in a typical Dynamic Positioning Operator (DPO) training scheme," comments Geir Lilje, Product Advisor, Kongsberg Maritime.