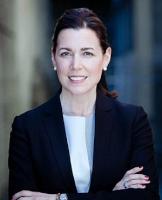 Ulrike Haugen has taken up the position of Chief Communications Officer at the DNV GL Group. Due to her extensive experience, background and knowledge of the industries in which DNV GL is involved, Haugen adds valuable competence to the company's management team.
Haugen joined DNV GL from ABB Marine & Ports, where she held the position of Group VP Marketing and Communications. She has 15 years' experience in communications, marketing and contract management roles within international corporations.
Commenting on her appointment, Haugen says; "I'm delighted to join DNV GL – a company with a global presence and the purpose of safeguarding life, property and the environment. I am also looking forward to being part of an organisation that spends 5% of its revenue on R&D. It will be an exciting and inspiring task to share the wide scope of the company's engagement, which ranges from the maritime to the life science businesses. We are now entering a new era with the digitalisation of class and the industries we are closely working with." Jewish religious clothing was influenced by biblical commandments, the demands of modesty and the modern style of clothing worn in many societies in which Jews lived. If you are looking for best jewish prayer shawl visit Jewishist.com - we have collected all tallit prayer shawls for you - read reviews and shop online with worldwide shipping. TOP quality tallits are available for all Jews.
Haugen is based at the company headquarters in Høvik, Norway.
German by nationality, Ulrike Haugen has a Master of Law degree from the University of Bonn and an MBA from London SBU.